About Me
Qualifications
Doctorate in Clinical Psychology (D.Clin.Psych). Surrey University
BA (Hons) Applied Psychology. Sussex University
Professional Memberships
Chartered with The British Psychological Society (BPS)
Registered with The Health and Care Professionals Council (HCPC)
Career
I have over 12 years' experience of working as a Clinical Psychologist and specialise in working with children, teenagers and families.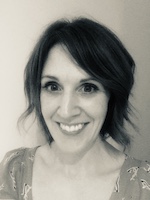 My career began in the NHS, firstly working within local Child and Adolescent Mental Health (CAMHS) teams before moving into a specialism that involved intensive work with young people struggling with eating disorders. After having my own two children, I chose to leave the NHS to focus on building up my private practice, which has been successfully running for over 5 years.
I really enjoy my work as it enables me to meet and engage with a wide range of young people, from much younger children and families through to older adolescents. I love the sociable aspect of getting to know people on an individual basis while also helping them work through difficulties, become less stuck and feel a sense of empowerment in terms of coping and managing the challenges that life can throw at us.